I have changed roles and I'm currently working on what's next
I am exploring a purpose-led digital product company working on something that makes a meaningful difference in people's lives. I am open to creating and building a company with the right people, or joining one at an early stage. I know that there are a few of these companies in Melbourne and I am interested in having conversations with the founders and teams therein to learn more.
Do you have some pointers, or want to have a chat?  Contact me
Work
A few of the things I have worked on in the past: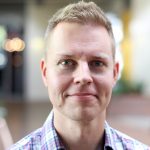 ANZ.com: I led the user experience design in the early days of the website redesign from 2014 onwards and provided design direction later on.
Volkside: I was the founder, user experience consultant and product creator from 2009 to 2011. I created the Wirify and Naview concepts back in 2010 and productised them in 2011. Both products are 100% designed and built by me, end to end.
Wirify is a bookmarklet that lets you turn any web page into a wireframe in one click. It's free, easy and fun to use.
Naview helps you to design and build navigation prototypes quickly and test the usability of your navigation with users.
These two products are still available and regularly used, although they have received few updates in recent years.
This site is not a portfolio – I can take you through much more of my work in person.
Tweets
I have collected some of my more interesting tweets here.
Read more about this minimum viable product diagram from me:
Minimum Viable Product: Build a slice across, instead of one layer at a time. #mvp /cc @aarron @benhyphenrowe pic.twitter.com/0koefYMrpf

— Jussi Pasanen (@jopas) September 26, 2014
On Medium
Public talks

Reflections on Payments in Australia (2017)

Wirify – Lessons from a micro internet phenomenon (2011)

Usability testing – Just Do It. Five methods for improving usability in-house (2011)