The National Climate Emergency Summit 2020 was held in Melbourne in February 2020. I have collected a few photos and selected quotes from my notes below.
There are brief quotes from Michael Mann, Greg Mullins, Paddy Manning, Anika Molesworth, Tim Costello, Margaret Klein Salomon, Adrian Whitehead, Zali Steggall, Tim Hollo, and others. Emphasis in italics is mine and not necessarily the speaker's.
See full conference program. Recordings and podcasts of many of the sessions are also available on the conference website.
Day 1: Opening Address
OFFICIAL OPENING, WELCOME TO COUNTRY & INTRO TO THE SUMMIT. Featuring: Lord Mayor Sally Capp & Leader of the Australian Greens, Adam Bandt. MC: Mary Kostakidis.
Uncle Dave in Welcome to Country: 'You must care for country, or it will reject you'
The New Climate Reality Check
WHAT'S THE EMERGENCY? Featuring: Michael E. Mann, David Spratt. Moderated by Jo Chandler.
Jo Chandler: 'What will it take to shift us into a new state?'
Michael Mann: 'Doom and gloom are being weaponised'
Crisis On Country
FIRST NATIONS RESPONSES TO THE EMERGENCY. Featuring: Tony Birch, Jacqui Katona, Neil Morris. Moderated by Lidia Thorpe.
'[Our] land, stolen and then wilfully extinguished'
'Our land and us both have been enslaved for "progress"'
'If the colonial project is [continued], there can be no climate justice'
Day 2: Welcome and Recap
WELCOME, RECAP & INTRO TO DAY 2. MC: Jane Caro
Australian Medical Association:
'More people will die: Temperature-related deaths [will be] up over 100% by the end of the century'
'The risk of doing nothing is too great'
Everybody's Problem
STORIES FROM THE FRONTLINES. Featuring: Greg Mullins, Anika Molesworth, Michael Thomas, Mayor Vonda Malone, Paddy Manning. Moderated by Jane Caro.
Greg Mullins:
'I have been fighting fires since 1971 … I'm seeing things that I never imagined'
'Queensland was not a bushfire state. It is now. […] Places that have never burned are burning.'
'[Pyroconvection] I have seen half a dozen this year'
'I hate this thing "the new normal"'
Paddy Manning: 'In one way it's ignorance that's killing us, not climate change'
Anika Molesworth:
'My family [of farmers] no longer produces food'
'We have come to the end of the line in terms of adaptive capacity [on our farm]'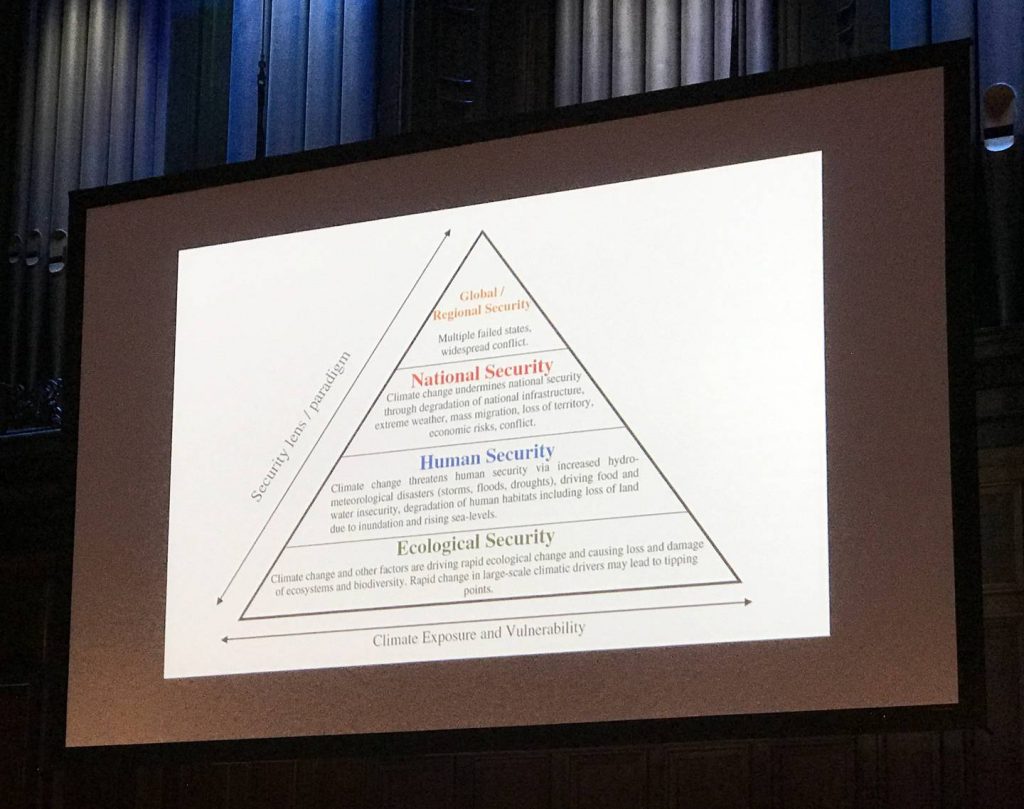 Justice & Rights in the Emergency
EMERGENCY POWERS AND THE DECLARATION DEBATE. Featuring: Nyadol Nyuon, Tim Costello, Philip Sutton, Nicole Rogers. Moderated by Corinne Grant.
Tim Costello: 'In North Uganda, they all know about Australia's bushfires. We are the poster child of climate change.'
Philip Sutton: 'Safe climate is one of the rights we need to struggle for'
Nicole Rogers:
'Exercise of certain human rights [could be seen] as an impediment to mitigation'
'Australia is vulnerable [with] no bill of rights … [All we have are the] "five flimsy freedoms"'
'Politicians are guided almost enterly by self-interest rather than the greater good'
The Activism Gap
WHAT DOES CAMPAIGNING FOR CLIMATE EMERGENCY ACTION LOOK LIKE? Featuring: Margaret Klein Salamon, Jane Morton, Sam La Rocca, Adrian Whitehead. Moderated by David Spratt.
Margaret Klein Salomon:
'First step, build the paradigm … The imagination gap.'
'Don't worry so much about convincing people that you're right. What's possible and who's reachable changes so much [over time].' (with reference to the innovation adoption curve and The Lean Startup by Eric Ries)
'Help people see what they can do'
Adrian Whitehead:
'Maximum Fear / Maximum Hope … Not brightsiding'
'Leverage points for deniers: … Understanding what matters to them'
'This is not a convincing project; this is a bringing people with us project'
'Positivity can often be a form or denial'
Democracy Reboot
POLITICS FIT FOR THE EMERGENCY CHALLENGE. Featuring: Peter Garrett, Zali Steggall, John Hewson. Moderated by Kerry O'Brien.
Zali Steggall:
'[Politicians in Canberra] They think it's a game, power play, point scoring'
'Most people are in politics for their own interest'
Citizen Act
DEEPENING DEMOCRACY TO SUPPORT THE EMERGENCY TRANSITION. Featuring: Tim Hollo, Peter Cock, Giselle Wilkinson, Leigh Ewbank. Moderated by Tracee Hutchison.
Giselle Wilkinson:
'We have only a few years to populate the vacuum' –Adrian Whitehead
'Alone we go faster, together we go further'
Peter Cock:
'Our democracy has become a corporate state'
'[How to make change] without excessive reliance on the individual's choices'
Tim Hollo:
'Our democratic systems are exclusive, and surprisingly fragile'
'Politics As Usual is built on capitalism, patriarchy, colonialism and extractivism'